Colt frequency inverter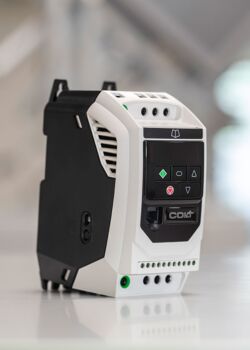 What is a frequency converter?
The Colt frequency inverter is an electronic device which controls the speed of electric motors and the associated airflows individually and according to the application.
How does a frequency inverter work?
The frequency inverter converts a uniform AC voltage provided by the mains into an AC voltage with variable frequency and amplitude. These values are used as control variables for the energy output to the connected fan motors, thereby providing a continuously variable control. The level of this energy output is measured by a control system integrated into the frequency inverter.
When used in combination with the highly- efficient Colt Liberator fans, the frequency inverter is certified according to EN 12101‑3:2015 for use in smoke ventilation applications for the F300 and F400 classes.
In emergency mode, all thermal protection functions of the inverter are disabled. In the event of a fire, this ensures continuous operation of the fan until the frequency inverter or motor is no longer able to maintain operation. This means that no additional and costly bypass function is required for overriding the frequency inverter in the controller.
The input signal for the emergency mode can be provided by fire activation (voltage-free contact from manual release points and/or automatic releases), so that in the event of a fire the unit functions as long as possible in order to remove smoke or maintain the air quality in the building.
What is the purpose of a frequency inverter?
Because the frequency inverter can infinitely adjust the fan output, it is possible to meet the various requirements for fire protection and ventilation, and achieve various building-specific solutions.
Features and benefits
Depending on the application, there are a number of benefits resulting from the use of a frequency inverter:
Determination of the motor power actually required, which depends on the requirements of the particular application (process ventilation, smoke extraction in case of fire).
The smoke extraction requirements can be met with individualised and coordinated solutions.
Elimination of a complex and expensive bypass control for smoke ventilation.
Energy efficiency by saving unneeded energy.
Improvement of the internal working conditions by use of day-to-day ventilation.
Reduction of the mechanical load of fans and their noise emissions.
Conformity to standards
Compliance with the Regulation on Electromagnetic Compatibility 2014/30/EU (EMC Directive), the Low Voltage Directive 2014/35/EU and the Machinery Directive 2006/42/EU.
Certified to EN 12101-3:2015 (F300 and F400) in combination with Colt Liberator fans.
Compliance with the following standards:

EN 61800-3:2004: Variable speed electric drives. EMC requirements including special test methods.
EN 61800-5-1:2003: Variable speed electric drives. Safety requirements - electrical, thermal and energy requirements.
EN 60204-1:2006: Safety of machinery - equipping machines electrically - general requirements.
EN 55011:2007 Industrial, scientific and medical equipment - radio disturbance - limits and methods of measurement.
EN 60529:1992 Kinds of protection via the housing.