We work hard to reduce our impact on the environment
Colt conditions for a sustainable built environment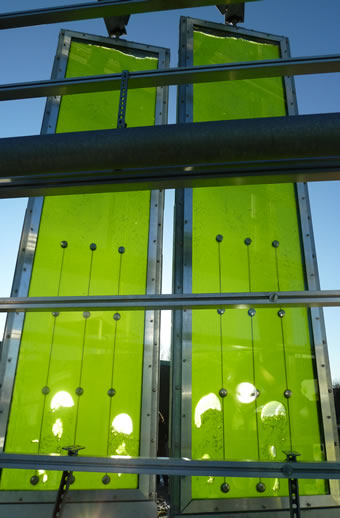 The very nature of what we do at Colt contributes to a built environment that is more efficient and sustainable in the use of the world's natural resources. Our technologies harness natural elements and make them work for the building, to ensure the most efficient use of energy.
Many products in the Colt portfolio contribute to a building's energy efficiency; for example solar shading that reduces cooling requirements or natural ventilation that lowers internal temperatures and improves air quality with no or minimal energy expenditure.
And we are always searching for new solutions to further improve the environmental performance of our customers' designs. For example, we are bringing to market a new generation of energy saving products, which in turn help buildings to achieve high energy performance. Our ventilation and cooling products are ever more air tight, better insulated and energy efficient to reduce consumption. Especially energy-efficient products include the Airlite, Firelight and Coltlite ventilators and the Coolstream evaporative cooler.
Not only do we help our customers with their designs' environmental performance; we also look at the way we run our operations, taking every opportunity to reduce the environmental impact of our activities, both at our offices and at our manufacturing locations. We plan our logistics to optimise efficiency, seek to minimise packaging, reduce waste, recycle and use materials from sustainable or recycled sources.
Examples of how Colt is working for a sustainable building environment
"Colt Goes Green" Colt Netherlands commits to cut CO2 emissions by 23% within 5 years
"Colt Goes Green" - Colt Netherlands commits to cut its CO2 emissions by 23% within 5 years
Colt takes the environment and sustainability very seriously. In fact, every day, as we design energy-efficient systems for our customers we help them reduce their carbon footprint as well as their running costs end energy bills. But, as you know, we are never satisfied and we want to do more for the environment. We have a plan to reduce our own carbon footprint and to continue to do so over time.
Colt Netherlands has taken the first step, achieving Level 3 certification in the so-called "CO2 performance ladder". This stage is all about contributing ideas and it is the beginning of the path towards continuous reduction of its carbon footprint. Every member of the team is involved contributing ideas on how to help Colt reduce its CO2 emissions.
Subsequently we have focused our efforts on reducing the energy consumption of our buildings, by carrying out structural modifications and reviewing our energy management systems.
Advanced technology to create Colt conditions: predicting energy usage
Piatra software package
Using the unique Colt Piatra software, we can predict how much energy a building will consume and how much carbon it will produce when different types of ventilation, heating, cooling and shading equipment are installed.
Increasingly, our customers – be they architects, developers, owners or occupiers – want energy efficient buildings and they want to reduce their carbon footprint. This may be because they need to meet the regulations being introduced around the world, or because they want to reduce their operating costs, or both.
Anticipating this demand, we are introducing a new generation of products that are more air tight and better insulated so as to reduce energy usage.
We are now able to build on this by being able to show our customers how effective our new products are and what a difference they can make to their building's energy performance and carbon footprint.
To do this we developed a software package, called Piatra, to show our customers how much energy their building will use and how much CO2 it will produce when different Colt systems are installed. With Piatra our customers will see how much our products can reduce their running costs and how quickly these savings will offset their initial investment.
Having selected the location of the building from a database of 500 possibilities, the software provides data for every hour on temperature, global radiation, wind speed, humidity and barometric pressure at that location. Next the building information is provided, such as the dimensions, orientation and average U value or age of the building, which will indicate how well insulated it is likely to be, and choose the desired day and night temperatures and working hours.
Next the type and size of the heating, ventilation and cooling systems is provided. It is even possible to include solar shading systems in the model, showing how they will reduce solar heat gains. Piatra can produce various scenarios and the user is able to compare overall building performance using different Colt systems. If the energy mix data is provided, which shows where the electricity comes from, Piatra will also calculate the CO2 emissions.
With Piatra, our customers are able to see calculations showing the impact of using different Colt systems. They are able to compare the initial and running costs for each, getting a clear idea of the relative payback periods. And they are able to include the Colt systems in their calculations of the building's carbon footprint
Colt advises on how to improve energy efficiency in factories
Colt UK advises on how to improve energy efficiency in factories
Colt's expertise in maximising energy efficiency in industrial buildings is put to the test daily as its specialists carry out surveys of customers' facilities and provide solutions to improve their performance. This service is in such demand, that the team published in its blog a 5-step plan to assess the potential for improvement in a factory's energy efficiency. The advice has proved extremely popular, with the article becoming the most read post in the blog.
The advice focuses on looking at the day-to-day running of the factory with a fresh eye, challenging habits staff may have gradually fallen into over the years. Starting from the analysis of energy use graphs, it looks at optimising lighting, fixing leaks in air lines, reusing waste heat and the possibility of generating energy with solar panels.
A living green dynamic façade...Surely this is science fiction?
A living green dynamic façade...Surely this is science fiction?
Colt has recently become involved in a research project that you might think belongs in science fiction: it's about creating a façade that uses live micro-algae to provide shade and generate renewable energy at the same time. You can't be greener than that!
"Algae in a façade," you may ask, "How is that possible?" It is, with the ingenuity of Colt and its partners in this project, Arup who designed the concept and SSC who supplied the bioreactor technology. The façade is made of hollow glass louvres that serve as containers, or bioreactors, to grow the micro-algae. These are highly dynamic organisms that grow at an incredibly fast rate, doubling their mass in a day. This makes them the most efficient plants at converting light energy into biomass, which can be harvested to generate energy for the building.
The hollow louvres built by Colt to serve as bioreactors are 2.6 metres high, 70 cm wide and approximately 2 cm thick. Each cavity contains about 24 litres of an enriched culture medium to grow the micro-algae. Each bioreactor has an inlet and an outlet pipe which connect the bioreactors and transports compressed air and gases to make sure the culture medium is constantly in motion and the micro-algae don't settle at the bottom. This is important because the micro-algae not only provide biomass for energy, but also shade when they are evenly distributed within the bioreactor. And they respond to environmental conditions, as they grow faster in bright sunlight, adapting the amount of shading they provide according to external light levels.
This smart, green façade has been installed in a zero-energy house in Germany as the world's first 'bio-adaptive façade'. The house was officially inaugurated in March 2013 and opened to the public during the International Building Exhibition in Hamburg. Scientists, engineers and builders are assessing the full potential of the system as a green alternative providing dynamic solar shading alongside sustainable, renewable energy – and with its shimmering green façade it is a strikingly good looking building too!
Colt in Havant slashes energy use
Colt in Havant slashes energy use
Receiving electricity and gas bills at Colt UK's Havant factory has recently become positively thrilling.
"Since the implementation of two energy saving projects, consumption has gone down so much that our bills are much lower than they used to be in spite of big rises in electricity and gas prices," says John Bloomfield, Manufacturing Manager.
The three old boilers in the office building, which had a combined output of 1,425 kW but only ran at 65% efficiency, have been replaced with eight 42 kW condensing boilers that operate in excess of 90% efficiency. Thermostatically controlled valves have been fitted on every radiator, ensuring that an even temperature is maintained in every part of the building.
John is very pleased with the results: "In three months, we have used 35% less gas than we did in the same period last year: in spite of a 14% rise in gas prices, we saved more than £ 5,500!"
The electricity bill, on the other hand, was slashed by replacing the fluorescent lighting in the manufacturing area with T5 energy efficient light fittings with integral movement detectors and automatic light level adjustment.
"We used 18% less electricity over 5 months compared to the same period in 2011, which cut almost £ 4,000 from our energy bill in spite of prices having risen by 7.8%.
"When we planned these two projects, we knew we would cut dramatically our energy consumption, but the result has exceeded our expectations by far"!